May 14, 2016
Seattle Reign FC 1 – Portland Thorns FC 1
Memorial Stadium Seattle, WA
NWSL Regular Season
It was not that long ago that the Cascadia Derby between Seattle and Portland was a USL First Division match between the Sounders and the Timbers. In 2016, it is not only those teams in MLS, but the women's pro game bringing passion to the stands. Two bus loads of Rose City Riveters arrived clad in red and positioned themselves across the Reign supporters groups. Seattle drums competed across the pitch with the Portland chants while their beloved Reign and Thorns competed on the pitch.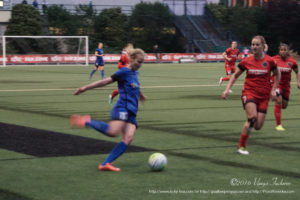 The first half saw both sides getting some chances, but physical play with every ball being challenged kept both sides off the board early. The turf got a victim in the the 4th minute when Manon Melis had to come off due to a nasty looking knee injury. Carson Pickett came on into an attacking role, switching Kiersten Dallstream to the right side opposite Meghan Klingenberg and setting up a game long battle between the two number 25's.
However, the scoreless first half quickly changed in the 2nd half. Portland got an opportunistic goal from Nadia Nadim in the 46th when she out jumped Reign keeper Hope Solo over Reign defender Lauren Barnes, stunning the crowd. Seattle bounced right back with Bev Yanez tying the match in the 49th with a powerful header on a Barnes corner. Suddenly, it was a 1-1 thriller.
Christine Sinclair made her 2106 season debut in the 56th. With Tobin Heath missing on a red card the Thorns were looking for some veteran presence as the match moved into the final third. With both Sinclair and Dagny Brynjarsdottir on the pitch the Thorns had a 15 minute significant height advantage up top, but a more defensive substitution took away their brief twin towers.  Less direct play followed.
The game continued to be physical on both sides, with Seattle captain Keelin Winters going down in the 62nd. There were bodies on the ground several other times. The Seattle trainer was busy for a while. It wasn't until the 87th minute when the referee finally reached into his pocket to book Lindsey Horan for a pull back on Little.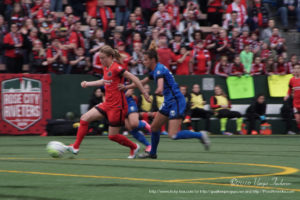 Both teams pressed down the stretch. Kim Little nearly gave Seattle a lead late with a flick on to herself for a volley, but it went high.
Neither side nor coach seemed satisfied with the result post game, and there were some clear frustrations evident post match. One ended up getting fined for expressing that frustration.
Cascadia is thriving.