Monthly Archives:
October 2021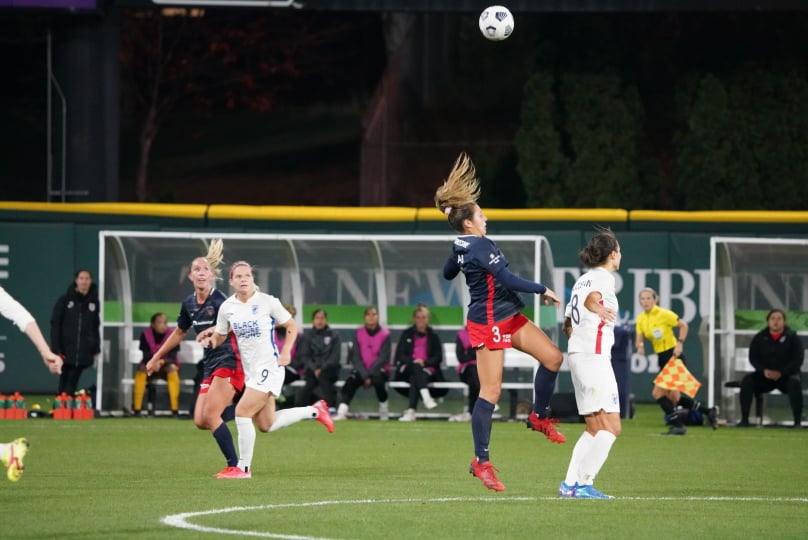 OL Reign 0
Washington Spirit 2
NWSL Regular Season
Cheney Stadium – Tacoma, WA
October 16, 2021
OL Reign played host to Washington Spirit Saturday night in Tacoma as both sides looked to surge into the playoffs. The host Reign not only could clinch the bye week and home match, but were still competing for a possible NWSL Shield. With home playoff games available for the 3rd and 4th place sides in the opening round, any points would be helpful for the Spirit.
The first half was an end to end affair, with both sides pushing forward much of the time. As a result, there was a good deal of pressure on each defense, and a number of dangerous chances were created by both.
A cross in the 22nd minute from Spirit defender Julia Roddar found the foot of the Taylor Aylmer, whose touch floated the ball over Reign keeper Sarah Bouhaddi and just under the crossbar.
Washington would take their one goal lead into the half.
Coming out of the interval, the hosts made a couple of substitutions to try and shake things up and rotate players after the grueling week. The Reign continued to press forward, the opportunities continued, but the Washington defense held.
Ashley Hatch extended the Spirit lead to two nil in the 59th minute with a right footed blast from outside the box that stunned the home crowd. With a half hour remaining, there was plenty of time for the hosts to come back, all it would take is a break through.
The visitors dedicated themselves to the defense of their two goal lead as the match wound down, keeping numbers back and frustrating Reign efforts to cohesively string together attacks. The break through for the Reign did not come as the Spirit defense held on for the clean sheet.
In the end, the two nil win for Washing is three huge points and a major opportunity taken. The standings set the Spirit up for a likely home first round match.
For the host Reign, this was a match of missed opportunities. The three points dropped likely will not keep them from the bye week, but the Shield now requires a lot of help from rival Portland.
Photos by Vanya Tucherov
BOX
Scoring Summary
RGN: none
WAS: Aylmer – 22', Hatch – 59'
Discipline
RGN: Barnes (Caution – 27'), Le Sommer (Caution – 50')
WAS: Roddar (Caution – 65'), Rodman (Caution – 81')
Lineups
RGN: GK Bouhaddi, D McNabb, D Cook, D Barnes ©, D Huerta, M Angelina (Marozsán 46'), M Fishlock (Watt 85'), M Weatherholt (Quinn 46'), F Le Sommer, F Lavelle, F Rapinoe (Balcer 70')
Unused Substitutes: GK Tullis-Joyce, D Brooks, D Celia, D Cox, M Cruz
Total Shots: 15 (Fishlock – 5)
Shots on Goal: 3 (Lavelle – 2)
Fouls: 8 (Rapinoe – 3)
Offsides: 3 (Rapinoe – 2)
Corner Kicks: 9
Saves: 4 (Bouhaddi – 4)
WAS: GK Bledsoe ©, D Staab, D O'Hara, D Sonnett, D Roddar (McGrady 72'), M Sanchez (Huster 81'), M Bailey, M Aylmer, F Rodman (Takarada 92'), F McKeown (Heilferty 72'), F Hatch (Yokoyama 92')
Unused Substitutes: D Nielsen, GK Kerr, D Rodriguez, D Biegalski
Total Shots: 17 (Rodman – 4)
Shots on Goal: 7 (Rodman, Aylmer – 2)
Fouls: 9 (Rodman– 3)
Offsides: 1 (Rodman – 1)
Corner Kicks: 2
Saves: 4 (Bixby – 4)
Officials
Referee: Ekaterina Koroleva
Assistant Referees: Jennifer Garner, Tiffini Turpin
Systemic failures require systemic solutions.