OL Reign 0
Portland Thorns FC 0
March 18, 2022
Seattle, WA – Lumen Field
NWSL Challenge Cup
photos by Vanya Tucherov
OL Reign and Portland Thorns played a memorable 2021 match at Lumen Field in Seattle. No longer a one off, Lumen Field is now the home of the OL Reign. To kick off the first season in the stadium – and a return to Seattle from three seasons in Tacoma, Cascadia rivals Portland Thorns FC made the trip up the freeway on Friday night.
For both clubs the Challenge Cup will be a chance to sort out against actual opposition some significant changes in the offseason.
Both sides got early chances to set a tone. Portland managed a quick corner and good pressure. OL Reign got through in the 6th minute by Veronica Latsko was just wide with her chip over Thorns keeper Bella Bixby. The visiting Thorns seemed to have the better of the early going. Alana Cook took a yellow to slow Christine Sinclair on the break in the 15th minute.
The early pace remained steady. The game would not remain a goalless affair long. Sofia Huerta launched a volley from an Angelina lay off from just outside the box and it was one nil to the home side.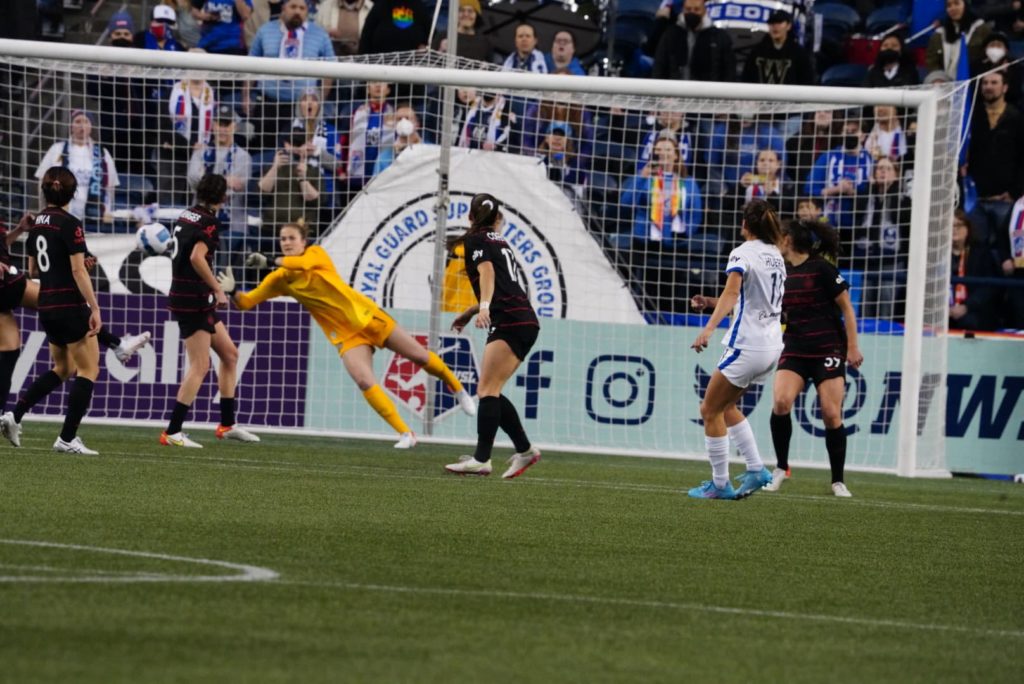 Sophia Smith broke free a few moments later, the initial shot blocked by Reign keeper Phallon Tullis-Joyce. The deflection went outside the box to the feet of Christine Sinclair, who slotted it to her right and just inside the post to bring the match level in the 28th minute.
Halftime saw the match level at one. In many ways, that was a fair score, but both sides had to be thinking on some missed opportunities that could have broken the match wide open.
Both sides came out of the interval without making big changes. The early pace of play in the 2nd was more methodical.
Once the first 15 passed, the substitution chess match began. Fresh legs Ally Watt up front for the Reign pushed the Portland defense. As the reinforcements began checking in, the end to end play of the early first half became more prominent once again.
Portland was playing it's first match since the departure of Lindsey Horan. OL Reign had Megan Rapinoe in street clothes and Rose Lavelle only entered the match in the 75th minute. Lavelle would make her mark quickly as the Reign immediately began looking for her in the possession, but she drew a yellow in the 83rd after a tough challenge on Bixby.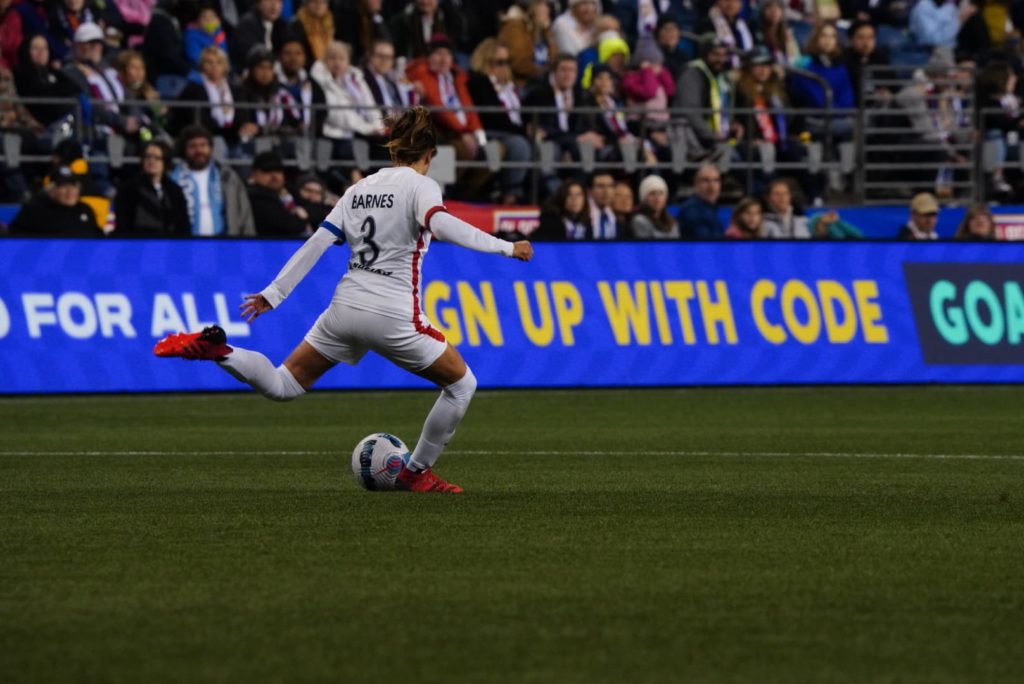 The final stretch was a bit of a testy affair, with a number of late yellows for tough challenges and some frustrations.
A 1-1 draw was not a result either side could be thrilled with, given the chances each had. Both clubs looked ready for solid seasons.
BOX SCORE
OL Reign (0-0-1, 1pt) vs. Portland Thorns FC (0-0-1, 1pt)
NWSL Challenge Cup
March 18, 2022 – Lumen Field (Seattle, Wash.)
Scoring Summary:
RGN: 19'- Huerta (Angelina)
POR: 28'- Sinclair
Discipline:
RGN: Cook (caution), 15
POR: Kuikka (caution), 25
RGN: Barnes (caution), 66
RGN: Lavelle (caution), 83
RGN: Watt (caution), 89
POR: Sugita (caution), 90+1
Lineups:
RGN: GK Tullis-Joyce, D Huerta, D Cook, D Hiatt, D Barnes ©, M Quinn, M Angelia (Lavelle, 75), M Fishlock, F Latsko, F Balcer, F King (Watt, 63)
Substitutes Not Used: GK Ivory, D McClernon, D Miramontez, D Lopez, M Stanton, M Van Der Jagt, M Athens
TOTAL SHOTS: 8 (Huerta, 3)
SHOTS ON GOAL: 3 (Huerta, 2)
FOULS: 11 (Four players tied, 2)
OFFSIDES: 1
CORNER KICKS: 6
SAVES: 2
POR: GK Bixby, D Hubly, D Menges, D Nally, M Kuikka, M Coffey, M Klingenberg, M Ryan (Moultrie, 65), M Sugita, F S. Smith (Everett, 87), F Sinclair © (Weaver, 73)
Substitutes Not Used: GK Hogan, GK A. Smith, D Provenzano, M Beckman, M Porter, F Betfort
TOTAL SHOTS: 8 (Smith, 4)
SHOTS ON GOAL: 3 (Three players tied, 1)
FOULS: 9 (Klingenberg, Sugita, 2)
OFFSIDES: 2
CORNER KICKS: 1
SAVES: 2
Referee: Kevin Broadley
Assistant Referees: Jennifer Garner, Katarzyna Wasiak
4th Official: Adorae Monroy
Attendance: 7,343