One Life
by Megan Rapinoe
Megan Rapinoe has been a member of OL Reign since it began as Seattle Reign FC in 2013. I have been covering the club (& other things) for ProstAmerika and @GoalieGuys for the past several seasons. Megan makes herself available to the media in very generous amounts, sometimes clearly wiped out from matches. She answers questions, pretty directly, and seems to love just talking about the game. Her public profile sometimes means the questions are not directly about the game, which is why we have a big publishing house having her write this book. Megan Rapinoe is an interesting person, a person who is more than willing to take on difficult topics and take personal stances that make it tough for her to only get questions about the game.
Over the seasons I have covered her as a player I have managed to get some interesting nuggets from her about the game. She is always shooting, she says, so when some of the audacious moves she attempts look like they could be a cross or a shot, assume shot. It is precisely that risk taking that makes her valuable to club and country, as she has the skill and tactical awareness of knowing when to try something and when not.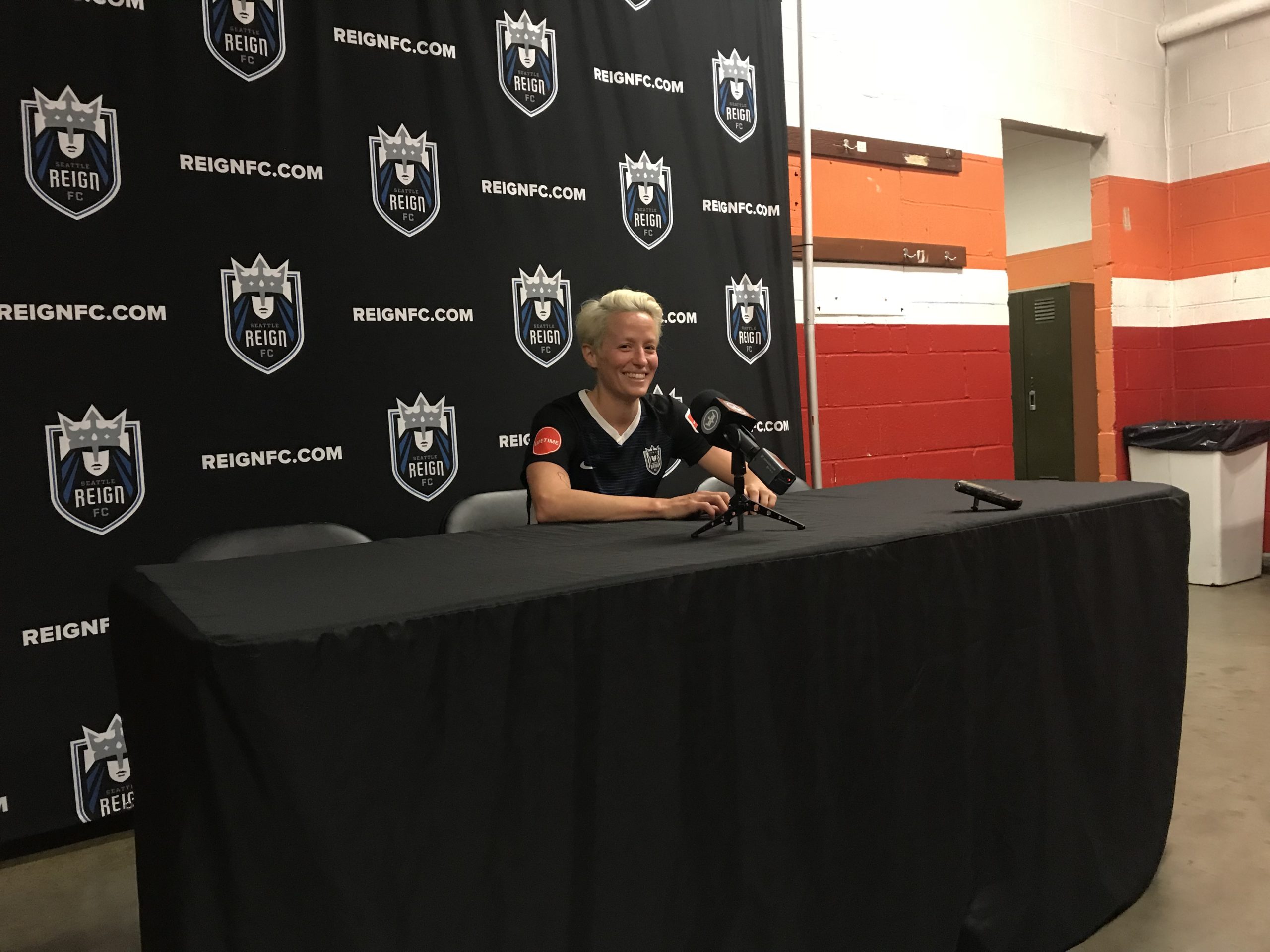 I was first really aware of Rapinoe's soccer IQ as I watched her stoppage time cross to Abby Wambach in the 2011 World Cup quarterfinals over and over. She received the ball with a lot of space, had very little time, would only really get a single chance at it, and launched a long diagonal cross to the far post that had no margin for error. The ball was perfect.
When the Reign lost in the 2015 NWSL Championship she went before the media, and I watched a clearly exhausted player studying the stat sheet set up at the table as we were waiting to start the presser. That loss stung. It was a good team, a really good team, and they have not got back to the final since. But, she got up there and answered the questions to represent her club.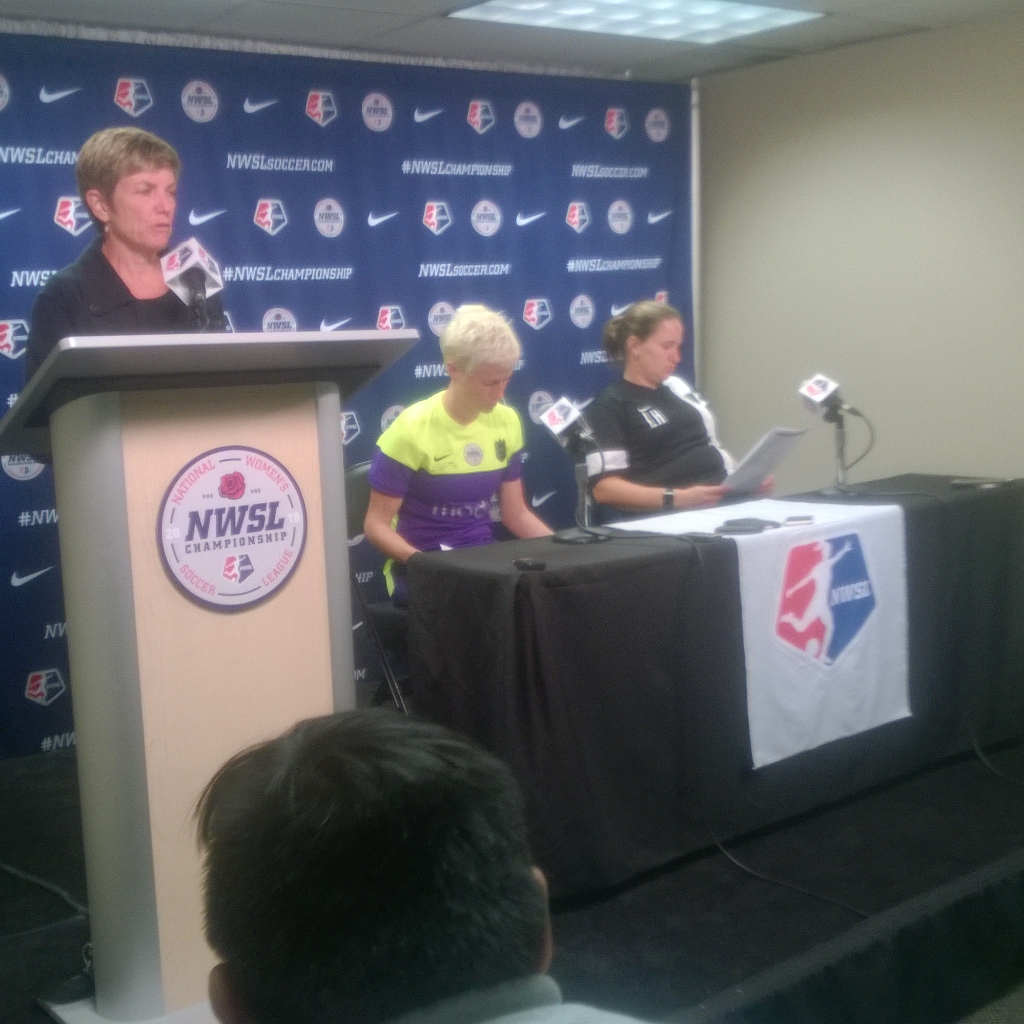 After winning the 2019 world cup, Rapinoe returned to her club and maybe played more than she was supposed to. She put forth a fantastic match against arch-rival Portland Thorns FC, nearly scoring on a chip that hit the crossbar. Demands on her time meant there was almost no turnaround and she was headed off to Milan to represent the USWNT and be named 2019 FIFA Women's Player of the Year, sharing the stage with men's winner Leo Messi.
As a high profile LGBTQ athlete, her personal relationships have been in the public eye. Her willingness to take on social justice issues put her squarely in the sights of those who would vilify her. She has held her ground, spoken at length and with knowledge of topics, and become sought after as an interview subject. Despite international tugs on her time, she has been willing to make certain the local soccer media is also given time, even when it would be excusable to pass.
The book is Megan telling the story of how she got to this point in time, where people might be interested in her writing a book to tell her story. She is self aware of the status she has as a successful athlete, LGBTQ icon, and activist. It is clear that she knows she could choose things to be different, but that she is simply not interested in an easy and safe path of avoiding controversy. Her upbringing as a queer youth in a conservative town that eventually found herself is one so many people can relate to. This is an important story.
The seasons I have been covering the Reign covers much of the content of this book. There have been opportunities to discuss issues related to her injury recovery, national team play, and activism. Talking with her after the first match in Seattle after kneeling was powerful. Opposition team members in the NWSL were her national team teammates and they were very much also available to discuss the profound impact the protests were having.
She has taken abuse for her stances. She is also an example of strength and resilience. When some of her employers were more understanding than others, she kept to her path. The book addresses some very hard subjects head on, just like Megan to do.
As noted, a few years ago after a match I asked Megan if a ball that drifted over the cross bar was a shot or a cross. She laughed and told me, "I am always shooting." This book is proof of that.
photos by Jeff Lageson